Se Fija's publisher and RRAFF co-director Angela Ortíz was front and center at a recent sit-down with writer-director Robert Rodriguez and some of the stars of Machete Kills, opening Friday October 11 all across the country
Machete Kills, starring the legendary Danny Trejo, opens countrywide on Friday October 11, and it's bound to make a hell of a splash–just like the first movie, Machete. SeFija publisher Angela Ortíz was part of a select group of journalists that sat down with writer-director Robert Rodriguez and three of the movie's many, many stars—Alexa Vega, Marco Zaror, and Danny Trejo himself–to talk about the origins and making of the crazy movie.
Among the topics discussed: the career-changing power of Rodriguez films, and how that's about to happen to Alexa; the challenge (and fun) of attracting a wide range of big-name stars, Latino and non-Latino, to the project; the origins of Machete itself, going all the way back to the days of Mariachi, c. 1994; the creation of the bizarre vehicles "that look like they're right out of The Road Warrior," and how the legendary Jesse James built Machete's vehicle, and much more. Clearly the stars had a great time, and display great respect and affection for Rodriguez himself. "I love being in Robert Rodriguez films," Zaror says, " because he's solid fun." And Trejo sums it up: "I totally trust him, or I wouldn't be here."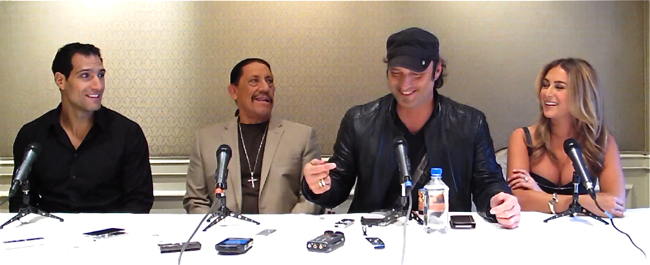 Photos: ©2013 Angela María Ortíz S.